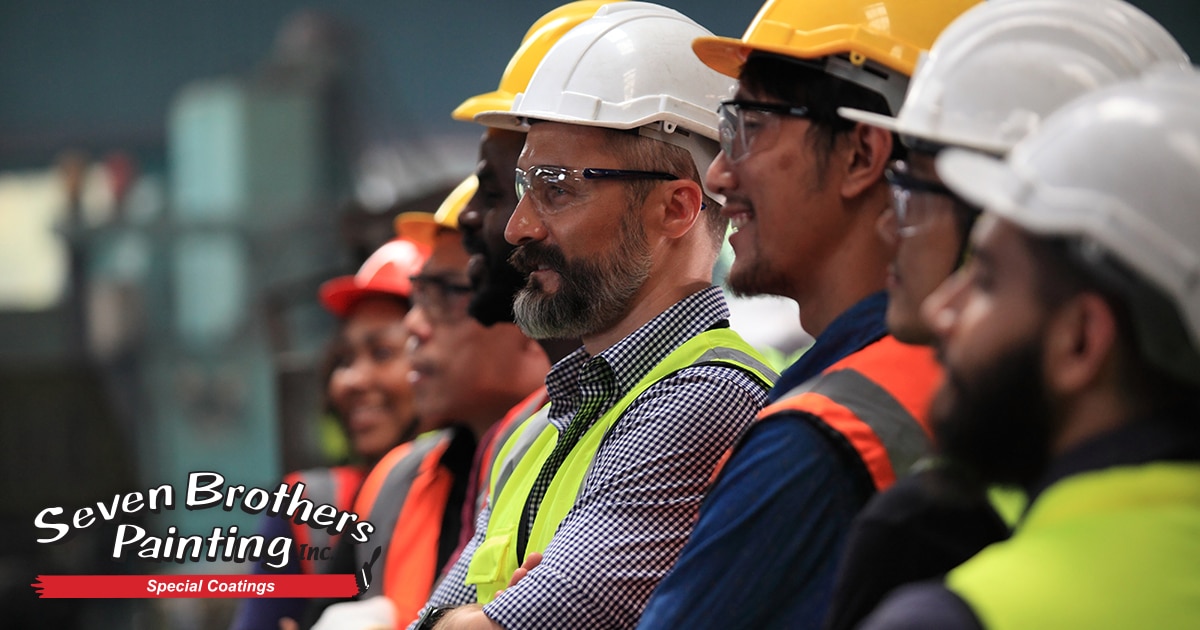 Next to the quality of our services and the depth of our support, ensuring the safety of our specialists and clients remains our most important priority at Seven Brothers Painting. We take our staff training and adherence to safety protocols very seriously and encourage our painting and flooring contractors to maintain numerous safety and equipment handling certifications to guarantee the versatility of their proficiencies in the face of any residential, commercial, or industrial renovation project.
Our untarnished workplace safety record and performance successes are a direct result of our continuous effort to exceed established federal and regulatory workplace safety compliance measures. Part of doing this means our prestigious painting and flooring specialists frequently renew their numerous certifications, undergo accident prevention training, and refresh their understanding of our existing risk mitigation processes to guarantee ideal workplace vigilance and cooperation.
Our property improvement specialists at Seven Brothers Painting hold certifications for handling hazardous materials, containing and eliminating asbestos contamination, removing and handling toxic lead paint, operating heavy equipment and machinery necessary for large-scale renovations in commercial and industrial properties, operating specially made equipment and devices at high elevations, and even assembling, inspecting, and using commercial scaffolding equipment. The more qualified and experienced our specialists are, the greater an asset they are for our diverse clientele. After all, every property owner across the Great Lakes and beyond deserves to have access to incredible resources and support from property improvement partners that prioritize safety, integrity, reliability, and professionalism, like Seven Brothers Painting.
For 30 years, Seven Brothers Painting has proven time and time again that nothing is more important to us than the safety, comfort, and satisfaction of the multitude of unique property owners who trust our comprehensive services. It is evident by our commitment to continued training and fierce respect for safety practices. So, if you are looking exclusively for a company that you can trust to always go the extra mile to guarantee perfection in every approach to your project, look no further.
Our skilled property improvement specialists at Seven Brothers Painting are eager to connect with you and learn more about how our convenient painting and flooring services can serve the needs of your property. Whether you just need a few aesthetic upgrades around your home or you're budgeting for a major industrial overhaul, we will see to it that your mind stays at ease the entire time. All you have to do is choose Seven Brothers Painting!
Are you looking for a finished surface company in Michigan? Call Seven Brothers Painting today at (586) 323-7054. Seven Brothers Painting is celebrating 30 years of service and specializes in epoxy flooring, residential, commercial, and industrial painting, wall covering, theater and ultra-violet effect finishes, containment, high elevation, non-standard structures, moisture testing and barriers, and more. Seven Brothers Painting's uncompromising reputation of quality and reliability is why we are the industry leader in specialty coatings. Our full range of services extends from residential remodels to municipal and structural rehabilitation. The right preparation, the right product, and the right application for every project, guaranteed. Call (586) 323-7054 or contact us to schedule your hassle-free consultation.