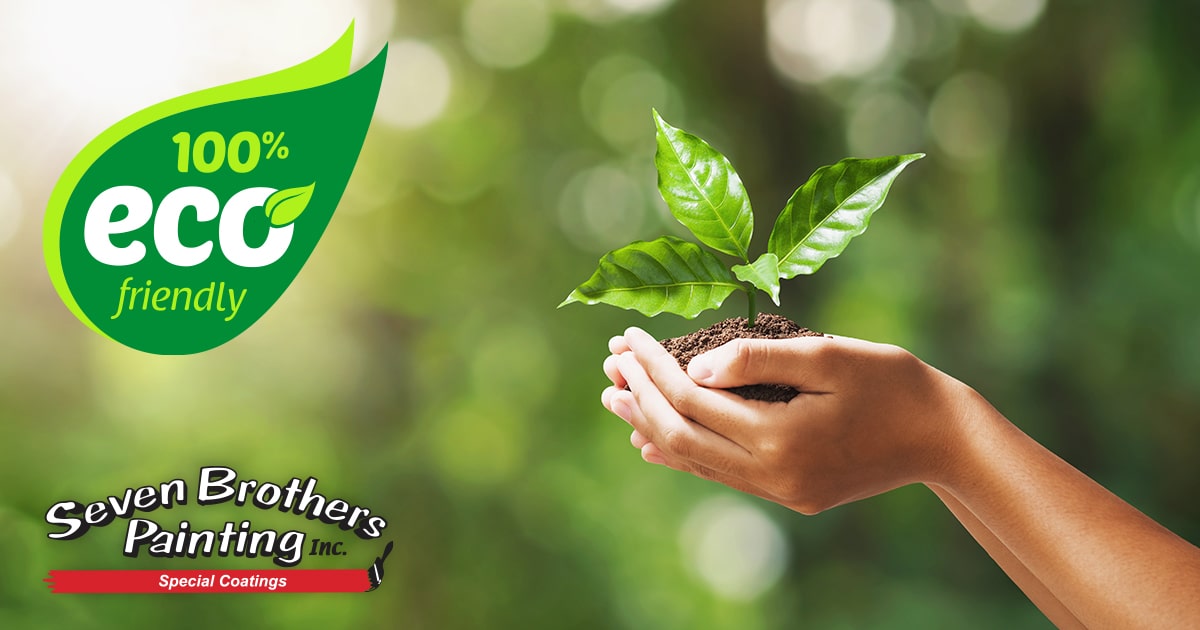 Going green is more than just a trend for most home and business owners. Enhancing sustainability is a conscientious decision that takes a lot of time and care to see through, especially when it comes to choosing the specific products you wish to use in your renovation projects. That's why having a trusted eco-friendly partner, like Seven Brothers Painting, is essential. We can help you find the green paint products and flooring solutions you're looking for!
The disadvantages of latex and oil paint extend far beyond their lack of environmental friendliness. Latex paint will often swell and crack on rough or wood surfaces, will only adhere to surfaces that are perfectly clean and prepped, you can't touch or move things painted with latex without risking damage, and it takes an excessive amount of time to cure. Oil paints also take a long time to cure completely and can leave behind invasive odors. They may also split over time as the paint hardens. Many green paint products, on the other hand, offer exceptional versatility and economic advantages on top of being friendlier to nature – and paint isn't the only thing you can ensure is eco-friendly.
As it turns out, epoxy flooring is one of the most eco-friendly and efficient flooring options on the market today. Of course, it's no surprise to us. Our specially formulated non-toxic epoxy flooring is completely resistant to acids, chemical cleaners, solvents, heavy traffic, abrasions, and more with little maintenance required. Plus, our epoxy flooring is non-porous, so it's impossible for dirt, grime, and bacteria that can lead to health hazards and pest infestations to get embedded or trapped in the flooring. All you need is the right epoxy flooring specialists to guarantee you choose the right approach for your property, like ours.
Seven Brothers Painting is proud to highlight the many uses of our eco-friendly and green products to our residential, commercial, and industrial clients. If being in business for 30 years has taught us anything, it's that the more deliberate we are in choosing the highest quality products to care for homes and businesses, the longer those homes and businesses will last and the healthier and happier those property owners will be, which is our ultimate goal.
For more information about our eco-friendly and green products or to get your first major renovation underway, we encourage you to reach out to our knowledgeable painting and flooring specialists at Seven Brothers Painting today. Call Seven Brothers Painting today at (586) 323-7054.
Seven Brothers Painting is celebrating 30 years of service and specializes in epoxy flooring, residential, commercial, and industrial painting, wall covering, theater and ultra-violet effect finishes, containment, high elevation, non-standard structures, moisture testing and barriers, and more. Seven Brothers Painting's uncompromising reputation of quality and reliability is why we are the industry leader in specialty coatings. Our full range of services extends from residential remodels to municipal and structural rehabilitation. The right preparation, the right product, and the right application for every project, guaranteed. Call (586) 323-7054 or contact us to schedule your hassle-free consultation.